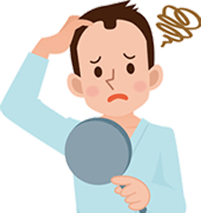 At the first glance, different people who suffer from the same alopecia are not necessarily the same type of alopecia from the perspective of professional medicine. "I always thought that I had alopecia caused by genetic reasons, but after diagnosis, I found that my alopecia was caused by completely different reasons." There are many cases like that.
The symptoms or causes of alopecia vary greatly, and the treatment methods chosen will also vary greatly. Dr.Scalp is connected to the Japanese centre for Regenerative Medicine to accurately detect the hair DNA of customers to really master the alopecia gene. Scalp diagnostics recognized by Japan's Ministry of Health and Welfare will issue prescriptions and continuously follow up the treatment according to the different symptom examination results of each person, so that customers get obtain the most satisfactory results in the shortest time.
+Dr.Scalp is a Japanese professional hair growth and restoring treatment institution that is specially established for patients getting caught up in the trouble of alopecia and hair loss.
It is the only AGA treatment specialty store in Hong Kong. It is connected with the technology of Japanese Centre for Regenerative Medicine, has obtained the license of Japan's national scalp diagnosis, and has joined hands with Hong Kong's professional dermatologists to pool more professional knowledge and treatment methods so that most patients can be satisfied in the shortest time.